Danby APAC9036 Owner's Manual
Download Owner's manual of Danby APAC9036 Dehumidifier for Free or View it Online on All-Guides.com. This version of Danby APAC9036 Manual compatible with such list of devices, as: APAC9036, APAC9036 EFOM, DPAC11006, DPAC120060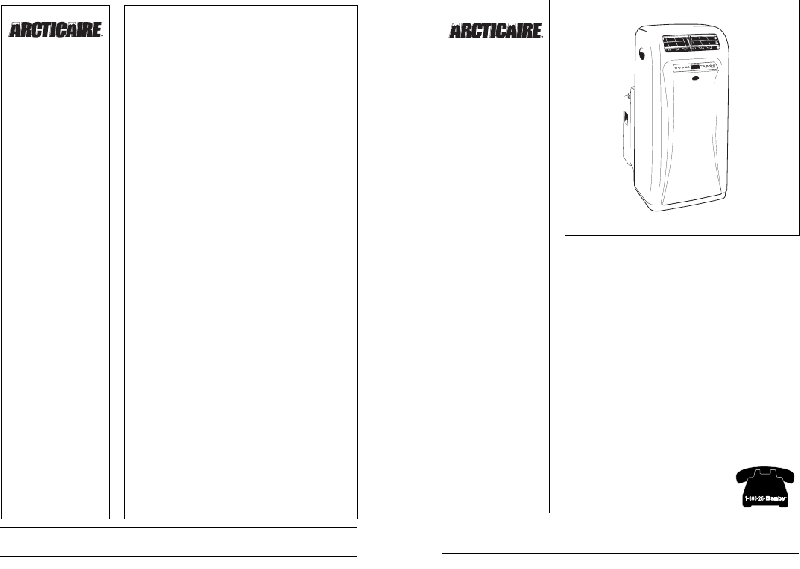 Portable 3 Season Home Comfort
The model number can be found on the serial plate located on the
back panel of the unit.
All repair parts available for purchase or special order when you visit
your nearest service depot. To request service and/or the location of
the service depot nearest you, call the TOLL FREE NUMBER.
When requesting service or ordering parts, always provide the
following information:
Appareil de confort au foyer portable 3 saisons
Le numéro de modèle se trouve sur la plaque d'information sur le
panneau arrière de l'appareil.
Toutes les pièces de rechange ou commandes spéciales sont
disponibles à votre centre de service régional autorisé. Pour obtenir
le service et/ou la localité de votre centre de service régional,
signalez le NUMÉRO D'APPEL SANS FRAIS.
Ayez les renseignements suivants à la portée de la main lors de la
commande de pièce ou service :
• Type de produit
• Numéro de modèle
• Numéro de pièce
• Description de la pièce
APAC9036
For service, contact your nearest
service depot or call:
(1-800-263-2629)
to recommend a depot in
your area.
Pour obtenir le service,
consultezvotre centre de service le
plus rapproché ou composez le :
(1-800-263-2629)
qui vous recommandera un centre
régional.
Para obtener servicio,
comuníquese con su departamento de
servicio más cercano o llame al teléfono:
1-800-26- Danby
(1-800-263-2629)
para que le recomienden un
representante en su zona
.
Printed in China (P.R.C.)
OWNER'S MANUAL
MANUEL
D'UTILISATION
APAC9036
CAUTION:
Read and follow all safety
rules and operating
instructions before first use
of this product.
MISE EN GARDE :
Veuillez lire attentivement
les consignes de sécurité et
les directives d'utilisation
avant l'utilisation initiale de
ce produit.
ADVERTENCIA:
Es importante que lea y
observe todas las reglas de
seguridad e instrucciones de
operación antes de usar
esteproducto por primera
vez.
PORTABLE 3 SEASON HOME COMFORT
Table of contents
. . . . . . . . . . . . . . . . . . . . . .
1
APPAREIL DE CONFORT AU FOYER
PORTABLE 3 SAISONS
Table des matières
. . . . . . . . . . . . . . . . . . . .
22
Danby Products Ltd, PO Box 1778, Guelph, Ontario Canada N1H 6Z9
Danby Products Inc, PO Box 669, Findlay, Ohio USA
45839-0669
Version 2.01.06
Danby Products Ltd, PO Box 1778, Guelph, Ontario Canada N1H 6Z9
Danby Products Inc, PO Box 669, Findlay, Ohio USA
45839-0669