Danby DMW608W Owner's Manual
Download Owner's manual of Danby DMW608W Microwave Oven, Oven for Free or View it Online on All-Guides.com.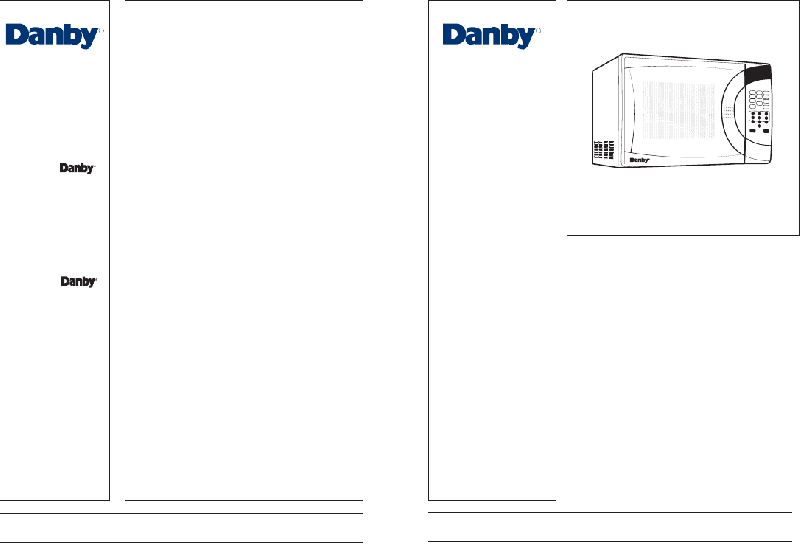 Model / Modèle
For service, contact your nearest
service depot or call:
(1-800-263-2629)
to recommend a depot in
your area.
Pour le service après-vente, con-
tactez votre centre de service le
plus près ou téléphonez au :
(1-800-263-2629)
afin de connaître l'atelier le plus
près de chez vous.
Microwave Oven
The model number can be found on the serial plate located on the
back panel of the unit.
All repair parts available for purchase or special order when you visit
your nearest service depot.
To request service and/or the
location of the service depot nearest you, call the TOLL FREE
NUMBER.
When requesting service or ordering parts, always provide the
following information:
• Product Type
• Model Number
• Part Description
Four à micro-ondes
Le numéro du modèle se trouve sur la plaque de série, sur le pan-
neau arrière de l'appareil.
Toutes les pièces de réparation sont disponibles à l'achat ou sur
commande spéciale lorsque vous visiterez votre atelier de service.
Afin de demander une réparation ou de connaître l'atelier de répara-
tion le plus près de chez vous, appelez au NUMÉRO SANS FRAIS.
Afin de demander une réparation ou de commander des pièces,
soyez toujours prêt à fournir les renseignements suivants :
• Type de produit
• Numéro de modèle
• Description de la pièce
Danby Products Limited, Guelph, Ontario Canada N1H 6Z9
Danby Products Inc., Findlay, Ohio USA 45840
Printed in China (P.R.C.)
DMW608W
OWNER'S MANUAL
GUIDE DU PROPRIÉTAIRE
CAUTION:
Read and Follow All Safety Rules and
Operating Instructions Before First
Use of This Product.
MISE EN GARDE :
Lisez et suivez toutes les consignes
de sécurité et d'utilisation avant la
première utilisation de ce produit.
Microwave Oven
Table of Contents .
.
.
. .
.
.
.
.
.
.
.
.
.
.
.
.........

1
Four à micro-ondes
Table des matières .
.
.
. .
.
.
.
.
..............

1
Danby Products Limited, Guelph, Ontario Canada N1H 6Z9
Danby Products Inc., Findlay, Ohio USA 45840