Delfield ColdPro F1FL 1 Specifications
Download Specifications of Delfield ColdPro F1FL 1 Freezer, Refrigerator for Free or View it Online on All-Guides.com. This version of Delfield ColdPro F1FL 1 Manual compatible with such list of devices, as: ColdPro F1FL 1, ColdPro F3FH 3, F1FL, F1FR, F2FH
Brand: Delfield
Category: Freezer , Refrigerator
Type: Specifications
Model: Delfield ColdPro F1FL 1 , Delfield ColdPro F1FR 1 , Delfield ColdPro F1HL 1 , Delfield ColdPro F1HR 1 , Delfield ColdPro F2FH 2 , Delfield ColdPro F2HH 2 , Delfield ColdPro F3FH 3 , Delfield F1FL , Delfield F1FR , Delfield F1HL , Delfield F1HR , Delfield F2FH , Delfield F2HH , Delfield F3FH
Pages: 2 (0.29 Mb)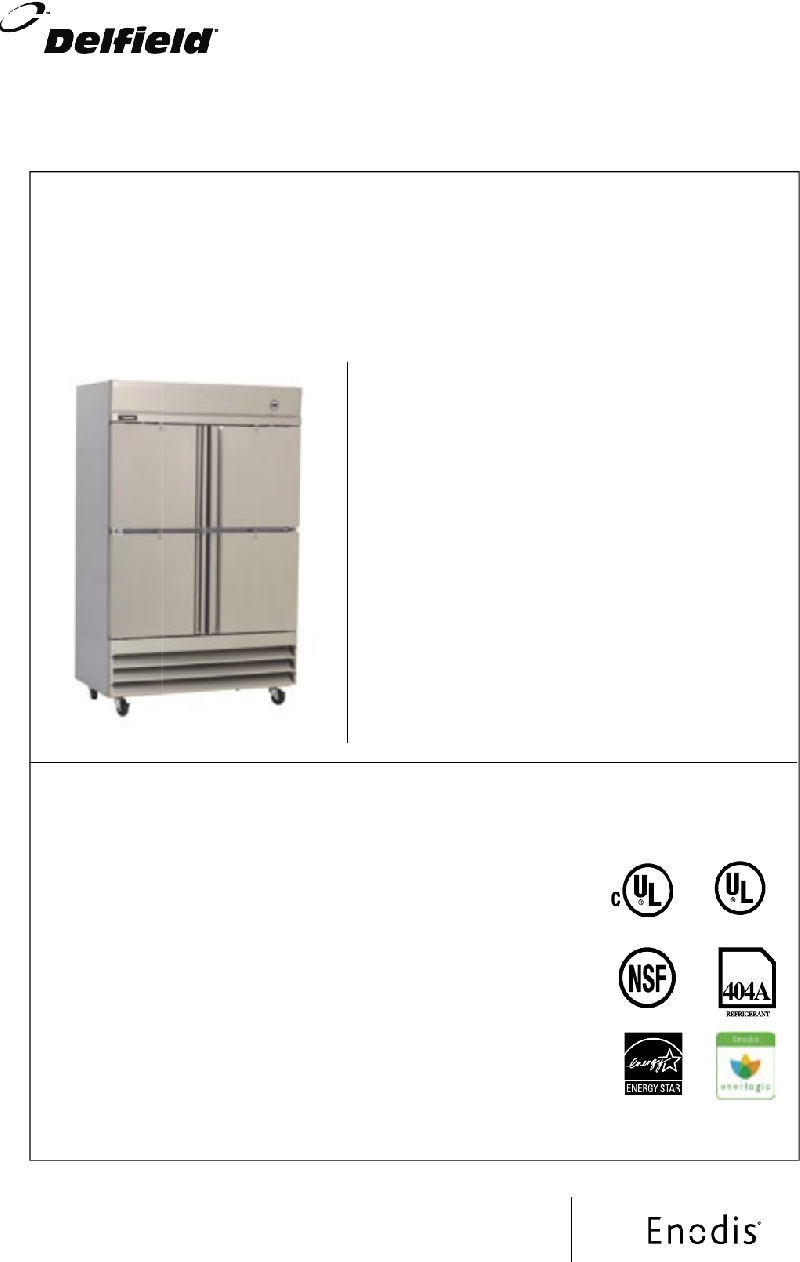 Exterior
: Cabinet exterior front, including door, is
constructed of heavy gauge stainless steel. Exterior
sides are gray coated heavy gauge steel. Back is
aluminum.
Interior
: Cabinet interior, including door liner is
constructed of white coated, corrosion resistant
aluminum. Interior floor is heavy gauge stainless
steel. Radius corners are provided in the front, rear
and at the floor. Three white epoxy coated shelves are
supplied per full door section. Shelves rest on clips
which are adjustable on 1" increments on pilasters
affixed to the cabinet interior. Pilasters are removable
without tools for cleaning. Interior light mounted
to the side wall is controlled automatically through
a switch mounted at the top of the door opening.
Door openings have plastic breaker strips to retard
condensate formation.
Doors
: Exterior is heavy gauge stainless steel, interior
liner is white coated aluminum and is formed to
protrude past the gasket to provide protection. Door
hinges are concealed within the door. Full vertical
Specifications
Standard Features
• Ceiling mounted interior
evaporator coil
• Bottom mounted condensing unit
• Hot gas condensate removal
• 6' attached cord and plug
• Exterior digital thermometer
• Stay open door
• No tools magnetic door gasket
• Epoxy coated shelves - 3 per
section
• One piece formed interior door
liner
• Full integral, vertical door handle
• Casters mounted from factory
• One year parts and labor warranty
• Additional 4 year compressor part
warranty
Options & Accessories
• 6" adjustable legs
• Additional epoxy coated shelves
Model
F1FR
1 section, full door, hinged right
F1FL
1 section, full door, hinged left
F1HR 1 section, half door, hinged right
F1HL
1 section, half door, hinged left
F2FH
2 section, full doors
F2HH 2 section, half doors
F3FH
3 section, full doors
ColdPro®
Self-Contained Solid Door Reach-In Freezer
ColdPro® Reach-In Freezers
Project
__________________________________
Item _____________________________________
Quantity _________________________________
CSI Section 11400
Approved ________________________________
Date
____________________________________
980 S. Isabella Rd.
Mt. Pleasant, MI 48858
Phone: 800-733-8948
Fax: 800-669-0619
www.delfield.com
length door handle is integrated into the door exterior.
Keyed door lock is mounted in the top of the door and
engages into a strike mounted at the top of the door
opening. Door gaskets are magnetic and mount to the
door, snapping into place and are removable without
tools.
Refrigeration system
: Evaporator coil is mounted to the
interior ceiling. Condensing unit is located at the bottom
of the cabinet, below the storage area. Environmentally
friendly R404A refrigerant is used. System has the
capability of maintaining between -5˚F and 0˚F in normal
foodservice operational use. Refrigerant is metered
using a capillary tube. Operation is controlled through
an adjustable electromechanical thermostat located
on the evaporator coil on the interior of the cabinet.
Airflow discharges from the rear of the evaporator
coil down the back wall. Return air is drawn into the
evaporator coil from the front with the assist for fans.
Condensate evaporation is automatic using hot gas from
normal refrigeration system operation. Evaporator coil
defrost is automatic using a mechanical time clock and
electric heaters.
Other
: Unit is supplied with a 6' cord and plug attached.
4" casters with an overall height of 5" are mounted on the
unit from the factory.
F2HH