Dell Latitude E4200 System Board Replacement
Download System board replacement of Dell E6400 - Latitude - Core 2 Duo 2.53 GHz Adapter, Computer Hardware for Free or View it Online on All-Guides.com. This version of Dell E6400 - Latitude - Core 2 Duo 2.53 GHz Manual compatible with such list of devices, as: E6400 - Latitude - Core 2 Duo 2.53 GHz, E6500 - Latitude - Core 2 Duo 2.53 GHz, Latitude E4300, Latitude E6400 XFR, Latitude e6400atg
Brand: Dell
Category: Adapter , Computer Hardware , Docking Station , Extender , Handhelds , Laptop , Laptop Accessories
Type: System board replacement
Model: Dell E6400 - Latitude - Core 2 Duo 2.53 GHz , Dell E6500 - Latitude - Core 2 Duo 2.53 GHz , Dell Latitude E4200 , Dell Latitude E4300 , Dell Latitude E6400 XFR , Dell Latitude e6400atg , Dell Latitude XT2 , Dell M2400 - Precision Mobile Workstation , Dell M4400 - Precision Mobile Workstation
Pages: 4 (0.32 Mb)
Download Dell E6400 - Latitude - Core 2 Duo 2.53 GHz System board replacement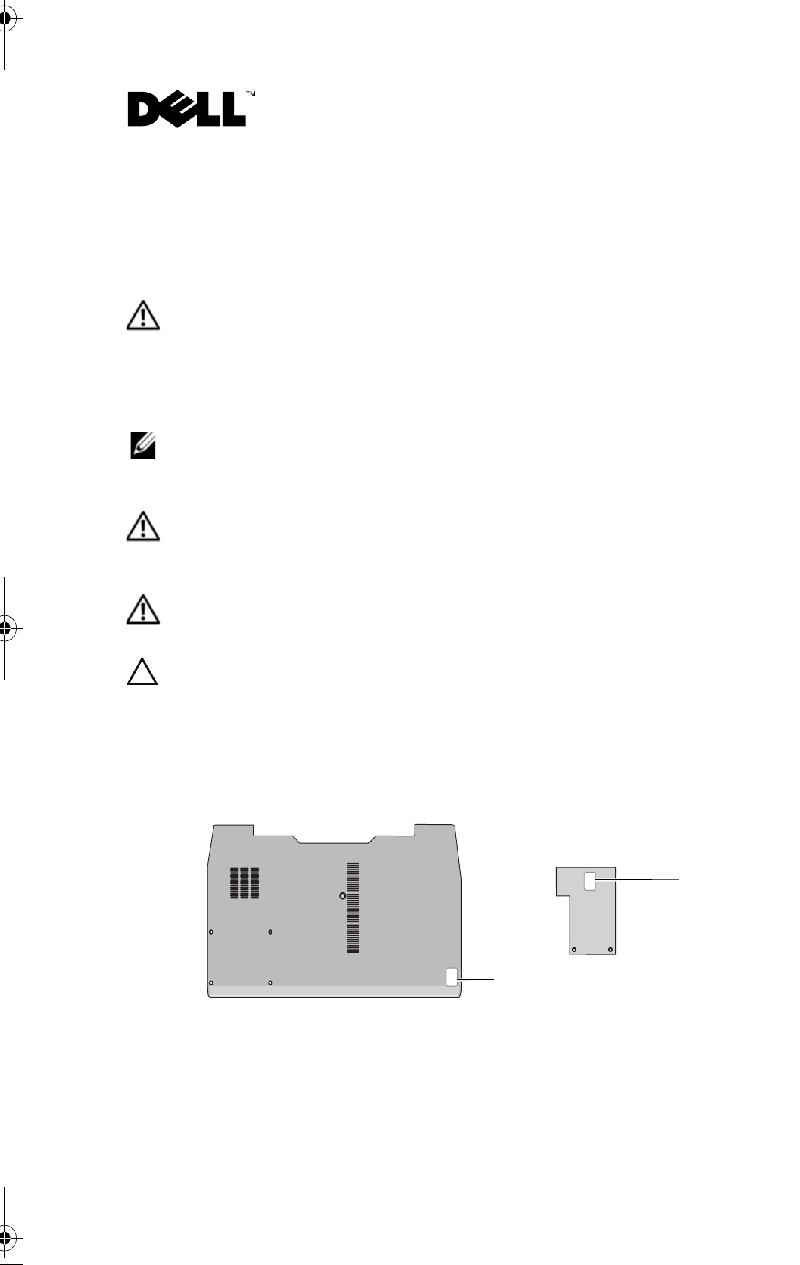 Replacing the System Board
About Warnings
WARNING: A WARNING indicates a potential for

property damage, personal injury,
or death.
Setting the AMT Manageability Mode
NOTE:
For Dell™ Latitude™ E5400 and E5500 computers, and for

Dell Precision™
M6400 Mobile Workstations, skip
this section and see "Prog

ramming the Service Tag"
on page 3.
WARNING:
Before you begin any of the procedures

in this section, read the safety
information that shipped with
your computer. For additio

nal safety best practices,
see the Regulatory Co
mpliance Homepage at www.dell.com/regulatory_compliance

.
WARNING:
If you need to remove the bottom access panel,

first disconnect the
AC adapter and modem cables
from all electrical outlets.
CAUTION:
Follow the instructions carefully

to ensure that you configure the
computer for the corre
ct management mode.
1
Remove the bottom access panel (see your
Service Manual
).
2
Take note of the label that is attached
to the inside of the bottom access panel.
March 2009
R939Ham1-edited.fm Page 1 Tues
day, November 3, 2009 4:59 PM