Dell Latitude E6400 XFR Quick Setup Manual
Download Quick setup manual of Dell Latitude E6400 XFR Adapter, Computer Hardware for Free or View it Online on All-Guides.com.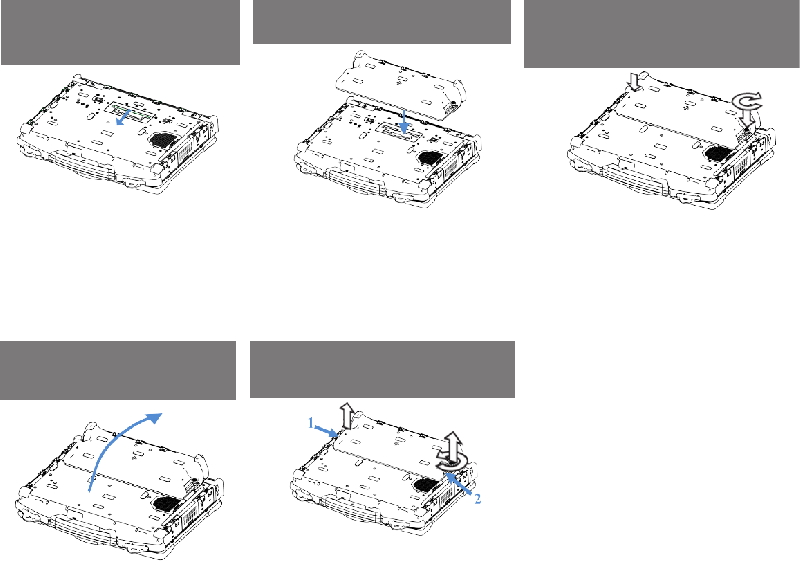 2: Align the extender with the
laptop docking connector
3: Push down on the extender
until connected to the docking
connector and tighten the
2 captive screws
4: Return to the upright
position
Flugt forlængeren med laptoppens dockingstik
Kohdista jatke matkatietokoneen telakkaliittimen
kanssa
Breng de uitbreider op één lijn met de
dockingconnector van de laptop
Innrett forlengeren med kontakten for
forankringsstasjonen på datamaskinen
Rikta in tillsatsenheten med datorns dockningskontakt
Tryk ned på forlængeren indtil den er forbundet til
dockingstikket og stram de to skruer
Paina jatketta, kunnes se kiinnittyy telakkaliittimeen, ja
kiristä 2 kiinnitysruuvia
Druk de uitbreider omlaag totdat deze is aangesloten op de
dockingconnetor en draai de 2 geborgde schroeven vast
Trykk ned forlengeren til den er koblet til kontakten for
forankringsstasjonen og stram de 2 holdeskruene
Tryck ned tillsatsenheten tills den är ansluten till
dockningskontakten och dra åt de två fästskruvarna
Vend laptoppen om igen
Käännä tietokone oikein päin
Zet de laptop weer rechtop
Returner til riktig posisjon
Vänd datorn rätt igen
To remove the extender, loosen
the 2 captive screws and press
the 2 eject levers in sequence.
For at fjerne forlængeren løsnes de to skruer og de to
udskydningshåndtag trykkes efter hinanden.
Jatke irrotetaan löysentämällä 2 kiinnitysruuvia ja
painamalla 2 poistovipua peräjälkeen.
U verwijdert de uitbreider door de 2 geborgde schroeven los te
draaien en de 2 uitwerphendels achter elkaar in te drukken.
For å fjerne forlengeren, løsner du de 2 holdeskruene og
trykker de 2 utløserspakene i rekkefølge.
För att ta bort tillsatsenheten lossar du de två fästskruvarna
och trycker på de två utmatningsspakarna i ordning.
NOTE:
Before you initially connect your laptop to the XFR
Rugged E-Legacy Extender, the operating system must complete
its setup process.
BEMÆRK:
Før du første gang forbinder din laptop tile
XFR Rugged E-Legacy-forlænegr, skal systemet fuldføre
installationsprocessen.
HUOMAUTUS:
Ennen kuin kytket matkatietokoneen XFR
E-jatkeeseen ensimmäistä kertaa, käyttöjärjestelmän on päätettävä
sen asennus.
OPMERKING:
Voordat u uw laptop voor het eerst aansluit op de
XFR Robuuste E-Legacy-uitbreider, moet het besturingssysteem
het installatieproces hebben voltooid.
MERK:
Før du kobler datamaskinen til den robuste XFR
E-Legacy-forlengeren for første gang, må operativsystemet fullføre
installasjonsprosessen.
OBS!
Innan du ansluter den bärbara datorn till XFR robusta
E-tillsatsenhet för äldre anslutningar för första gången måste
operativsystemets installationsprocess vara klar.
1: Turn the laptop upside
down and slide open the
docking connector door
1: Turn the laptop upside
down and slide open the
docking connector door
1: Turn the laptop upside
down and slide open the
docking connector door
Vend laptoppen på hovedet og skub lågen til
dockingstikket op
Käännä matkatietokone ylösalaisin ja liu'uta
telakkaliitännän kansi auki
Zet de laptop op zijn kop en schuif de
dockingconnectorklep open
Snu datamaskinen opp-ned og skyv dekselet til
kontakten for forankringsstasjonen åpen
Vänd datorn upp och ned och skjut luckan för
dockningskontakten öppen