Dell W-IAP105 Specifications
Download Specifications of Dell W-IAP105 Wireless Access Point for Free or View it Online on All-Guides.com.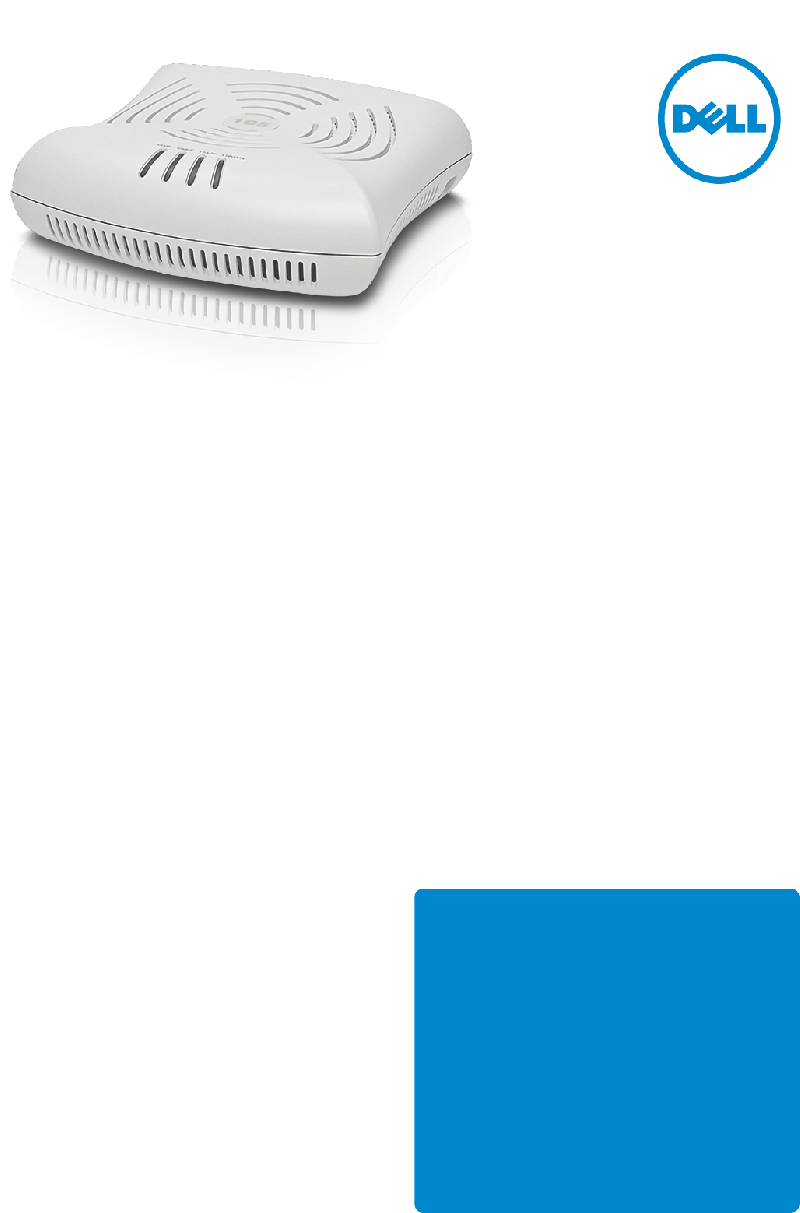 The W-IAP105 has dual radio, each radio capable of working in
either 2.4 or 5GHz bands, (dual radio, dual band) and includes
built-in internal omni-directional antennas. The W-IAP105 delivers
300Mbps per radio, is built to provide years of trouble-free operation
and is backed by an Extended Lifetime Warranty.
Virtual controller technology
The virtual controller technology in the Dell Networking W-IAP105
delivers enterprise-grade controller capabilities without requiring a
separate access point controller. The virtual controller in a single
IAP is capable of controlling a multiple number of other IAPs in a
network that are either local or dispersed across multiple locations.
Like a dedicated controller, an IAP is able to perform key tasks such
as AP auto discovery, 802.1X authentication, role- and device-based
policy enforcement, rogue detection as well as specialized Adaptive
Radio Management™ (ARM) that optimizes WiFi client behavior by
making sure that IAPs stay clear of RF interference. When multiple
IAPs are connected, a single IAP acts as a primary virtual controller.
In the event of primary virtual controller failure, another W-Series
IAP in a chain automatically takes on the role with no disruption
to services. Scalability of an IAP network is bounded by Layer 2
network design best practices.
Ease of deployment
Dell Networking W-IAPs are designed to be up and running in
minutes. From a laptop, simply connect wirelessly to an SSID to
perform over-the-air provisioning in quick, easy steps. To expand the
network, just install more Dell Networking W-IAPs — configuration
is automatically uploaded to new units. You can dedicate one radio
in dual-radio W-IAPs to form a wireless mesh type of network and
eliminate cabling between W-IAPs.
Management and visibility
Multiple Dell Networking W-IAP networks can be securely and
centrally managed by the Dell Networking W-Series AirWave
software management suite, allowing W-IAPs to operate hundreds
of remote locations. With Dell Networking W-Series AirWave, IT has
real-time visibility into users, mobile devices, and wired and wireless
LANs infrastructure, all from a single management console.
Dell also oers OpenManage Network Manager (OMNM) network
management software with a highly customizable, easy-to-use,
web-based console. OMNM delivers support for the full line of Dell
Networking wired devices and W-Series wireless devices and oers
enhanced features for trac flow analysis, deployment, monitoring
and management. OMNM comes with 10 free licenses; each IAP-
based network uses one license, you can use the remaining nine
licenses for your other Dell Networking devices.
Investment protection
As WLAN requirements expand, Dell Networking W-IAPs can be
re-imaged as 802.11n campus APs and migrate to a centralized
Mobility Controller architecture capable of supporting hundreds
and thousands of APs. Firmware to covert an IAP to a campus AP
is available upon request. In addition to providing WLAN access,
campus APs in a centralized, controller architecture can provide
wireless intrusion protection and powerful spectrum analysis
capabilities.
TAA-compliant
The W-IAP105 TAA version is compliant with the guidelines put forth
in the Trade Agreements Act (19 U.S.C. and 2501-2581), which is
intended to promote products either made in the USA or free-trade-
friendly countries.
Mainstream 600Mbps
802.11n access point with
built-in virtual controller,
oering simplicity,
manageability and access
point clustering capability
.
Access Point
The Dell Networking W-IAP105 is an 802.11n-based instant access point (IAP) that delivers the
aordability and simplicity of an entry-level enterprise-grade WiFi network.