EAW KF360z Specifications
Download Specifications of EAW KF360z Portable Speakers for Free or View it Online on All-Guides.com.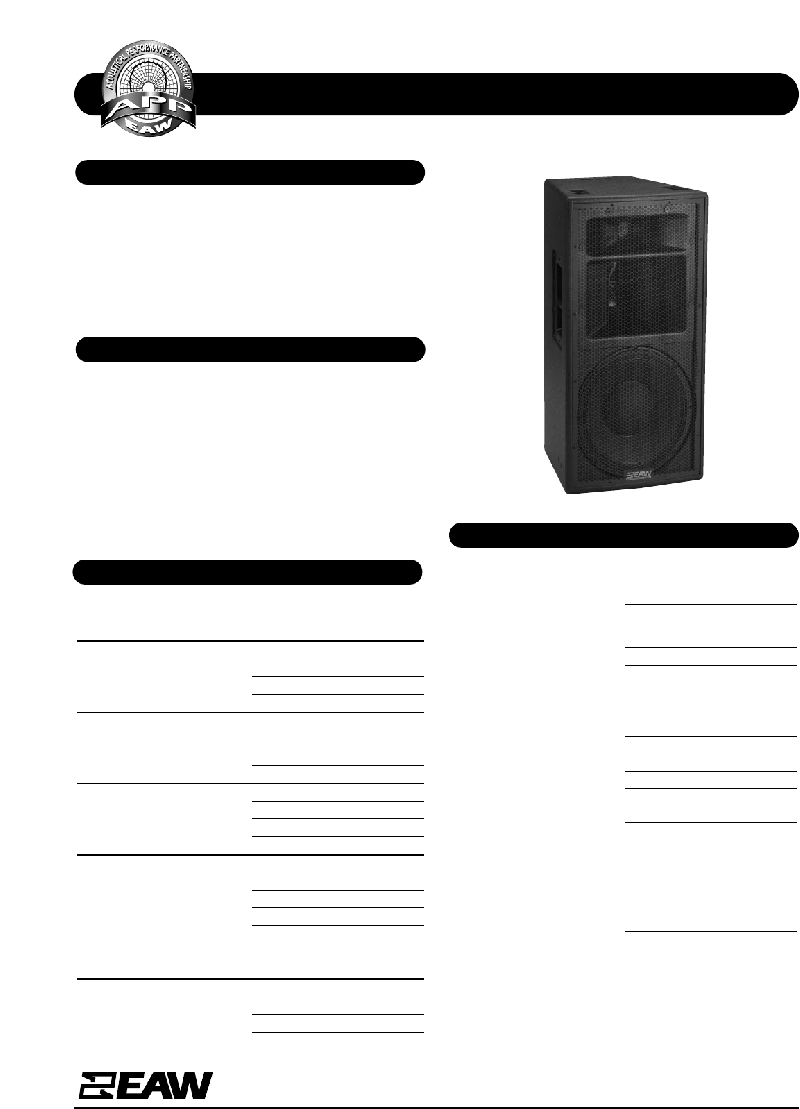 SPECIFICATIONS KF360z
One Main Street, Whitinsville, MA 01588
508 234 6158
Toll Free 800 992 5013
FAX 508 234 8251
[email protected]
.com
www.eaw.com
EAW products are continually improved. All specifications are therefore subject to change without notice.
KF360z/0002676/2 pp
Apr
il 2002

Printed in USA
LF Subsystem & Loading
1x 12-in, vented
MF Subsystem & Loading
1x 7-in horn-loaded cone
HF Subsystem & Loading
1x 1.4-in exit/2.5-in diaphragm
compression driver on constant
directivity horn
System Configuration
3-way, full-range
Powering Configuration(s)
Switchable full-range or bi-
amplified (passive LF/MF
crossover)
Controls (switches, knobs)
Powering mode switch
Recommended High-Pass
Frequency (12 dB/octave)
80 Hz
Enclosure Materials
Exterior grade Baltic birch plywood
Finish
Wear resistant textured black paint
Connectors
2x Neutrik NL4 Speakon
Mounting Hardware
6x 3-position flytracks with
integral 3/8"-16 threaded
mounting/suspension points
(3 each top & bottom), recessed
cup for standmount
Grille
Powder coated perforated steel,
foam backed
Frequency Response (Hz)
Axial Sensitivity (dB SPL/1 Watt/1m)
Impedance (Ohms)
Passive 4
Power Handling, AES Standard (Watts)
Calculated Maximum Output (dB SPL, @ 1m)
Bi-amped LF/MF Peak
126.0
Full Range Long Term
121.0
Bi-amped LF/MF Long Term
120.0
Bi-amped HF Long Term
126.0
Nominal Coverage Angle / -6 dB points (degrees)
PHYSICAL
A 3-way full range loudspeaker in a vented trapezoidal enclo-
sure. Includes a 12-in woofer, a horn-loaded 7-in midrange
cone with Radial Phase Plug
™
, and a 1.4-in exit compression
driver on a 65° x 45° constant directivity horn. The internal
crossover is user-switchable for either passive or bi-amp oper-
ation (with a passive LF/MF crossover). The enclosure has six
fly points, three each top and bottom, plus an integral pole
mount cup. Handles are located for the best balance when
carrying.
The KF360z is one of the smallest, full-range, 3-way loud-
speakers available. It is particularly suited for portable or
installed applications, including band PA, club systems, cor-
porate AV, and theatrical productions. The midrange section
incorporates a 7-in radial phase plug based on EAW's patent-
ed 10-in Radial Phase Plug
™
used in other KF Series products.
This design produces a time-coherent midrange wavefront
that is critical to ensuring good vocal articulation. The
appearance of the KF360z is enchanced with a curved gille
that matches other KF300 as well as companion KF600 Series
products. Six year warranty.
DESCRIPTION
APPLICATION
PERFORMANCE