Anthem AVM 20 Connections
Download Connections of Anthem AVM 20 Amplifier, Home Theater System for Free or View it Online on All-Guides.com.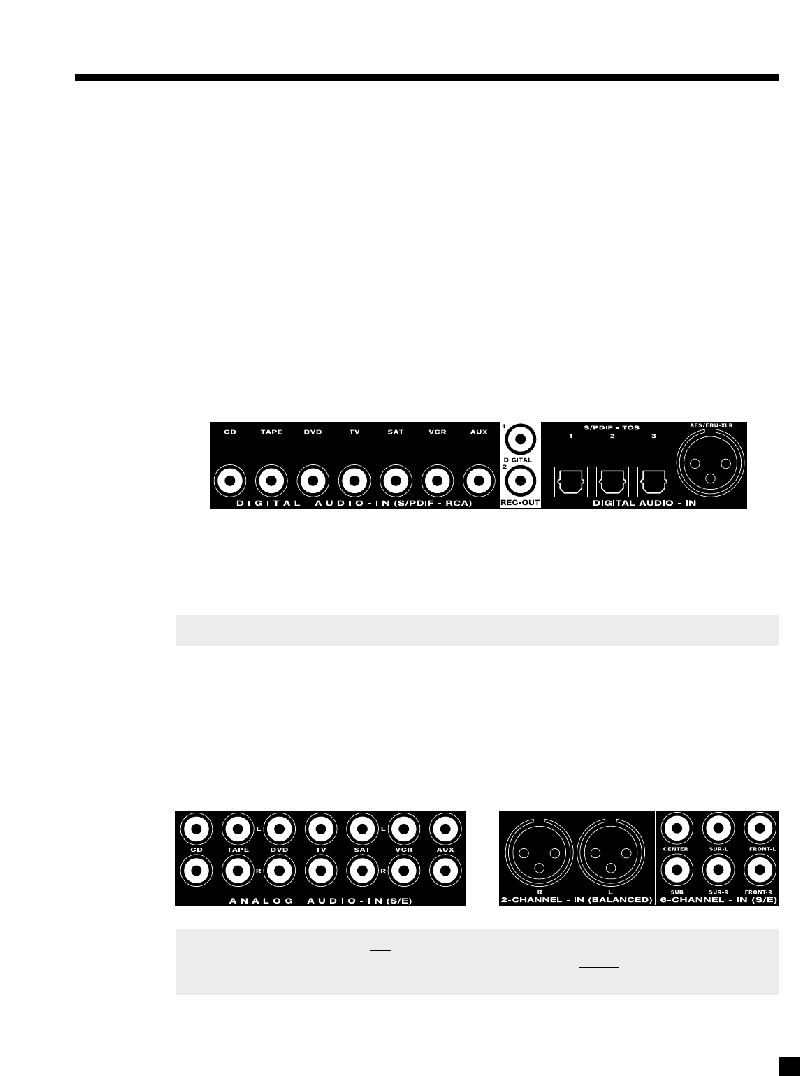 4.1
CONNECTING POWER TO THE AVM 20
Connect the power cord to the back of the AVM 20 and then to a 105 to 130 Volt, 60 Hz AC outlet.
There are two methods of transmitting audio signals: Analog and Digital. Analog is an electrical waveform
representation of sound and requires one cable for each channel. Digital represents sound using a sequence
of numbers and requires only one cable for all channels.
Every audio input in the AVM 20 can be changed from the factory setting to either Digital or Analog, except
2-Ch BAL and 6-Ch S/E, which accept analog signals only (see section 7.4.2).
4.2.1
DIGITAL AUDIO INPUTS AND OUTPUTS
Digital Audio-In connections are made through a coaxial (RCA), optical (TOS), or balanced (XLR) cable. From
the factory, DVD and SAT are set to Digital-RCA, whereas CD, TAPE, TV, VCR, and AUX are set to Analog-DSP.
The highest transmission quality is achieved with the AES/EBU-XLR connection. The AVM 20 provides one
such connection which may be assigned to any Source, except 2-Ch BAL and 6-Ch S/E. The S/PDIF-RCA
connection offers the next best digital transmission
–
use for source components with digital RCA outputs.
For source components with Toslink outputs only, use S/PDIF-TOS connections (remove dust cover before
connecting). These may also be assigned to any Source, except 2-Ch BAL and 6-Ch S/E (see section 7.4.2).
Note:
An external RF demodulator is required if using a Laser Disc player with Dolby Digital/AC-3.
Digital Rec-Out can provide a signal to the digital audio input of a Mini Disc recorder, CD-R, etc., from any
Source set to
'
Digital

'
or
'
Anlg-DSP

'
, except 6-Ch S/E (see sections 7.4.2 and 7.4.3).
4.2.2
ANALOG AUDIO INPUTS
Left/Right Analog audio connections are made through a pair of interconnect cables
–
typically white or
black for the Left channel and red for the Right channel. The audio output connectors on tape recorders,
VCRs, and CD players are normally color coded in this same manner.
Note:
Connect both the digital and
analog outputs from source components that have both types of
connection (e.g. DVD player)
–
ZONE2, ZONE3, and RECORD r
equire

analog audio connection
unless set to
'
copy

'
MAIN (see section 5.2.1).
16
4. CONNECTIONS