HP Compaq Presario,Presario 6000 Quick Setup
Download Quick setup of HP Officejet 6000 All in One Printer, Antenna for Free or View it Online on All-Guides.com. This version of HP Officejet 6000 Manual compatible with such list of devices, as: Compaq Presario,Presario 6013, Compaq Presario,Presario 6019, Compaq Presario,Presario 6021, Compaq Presario,Presario 6037, Compaq Presario,Presario 6060
Brand: HP
Category: All in One Printer , Antenna , Desktop , Laptop , Printer
Type: Quick setup
Model: HP Officejet 6000 , HP COMPAQ 6005 , HP Compaq Presario,Presario 6000 , HP Compaq Presario,Presario 6001 , HP Compaq Presario,Presario 6002 , HP Compaq Presario,Presario 6003 , HP Compaq Presario,Presario 6004 , HP Compaq Presario,Presario 6006 , HP Compaq Presario,Presario 6007 , HP Compaq Presario,Presario 6008 , HP Compaq Presario,Presario 6010 , HP Compaq Presario,Presario 6011 , HP Compaq Presario,Presario 6012 , HP Compaq Presario,Presario 6013 , HP Compaq Presario,Presario 6015 , HP Compaq Presario,Presario 6016 , HP Compaq Presario,Presario 6017 , HP Compaq Presario,Presario 6019 , HP Compaq Presario,Presario 6020 , HP Compaq Presario,Presario 6021 , HP Compaq Presario,Presario 6022 , HP Compaq Presario,Presario 6023 , HP Compaq Presario,Presario 6024 , HP Compaq Presario,Presario 6025 , HP Compaq Presario,Presario 6026 , HP Compaq Presario,Presario 6027 , HP Compaq Presario,Presario 6028 , HP Compaq Presario,Presario 6029 , HP Compaq Presario,Presario 6030 , HP Compaq Presario,Presario 6031 , HP Compaq Presario,Presario 6032 , HP Compaq Presario,Presario 6033 , HP Compaq Presario,Presario 6035 , HP Compaq Presario,Presario 6036 , HP Compaq Presario,Presario 6037 , HP Compaq Presario,Presario 6040 , HP Compaq Presario,Presario 6045 , HP Compaq Presario,Presario 6046 , HP Compaq Presario,Presario 6047 , HP Compaq Presario,Presario 6048 , HP Compaq Presario,Presario 6050 , HP Compaq Presario,Presario 6055 , HP Compaq Presario,Presario 6056 , HP Compaq Presario,Presario 6060 , HP Compaq Presario,Presario 6062 , HP Compaq Presario,Presario 6065 , HP Compaq Presario,Presario 6073 , HP Compaq Presario,Presario 6078 , HP Compaq Presario,Presario 6083 , HP Compaq Presario,Presario 6084 , HP Compaq Presario,Presario 6085 , HP Compaq Presario,Presario 6086 , HP Compaq Presario,Presario 6088 , HP Compaq Presario,Presario 6089 , HP Compaq Presario,Presario 6090 , HP Compaq Presario,Presario 6092 , HP Compaq Presario,Presario 6095 , HP Compaq Presario,Presario 6097
Pages: 2 (5.88 Mb)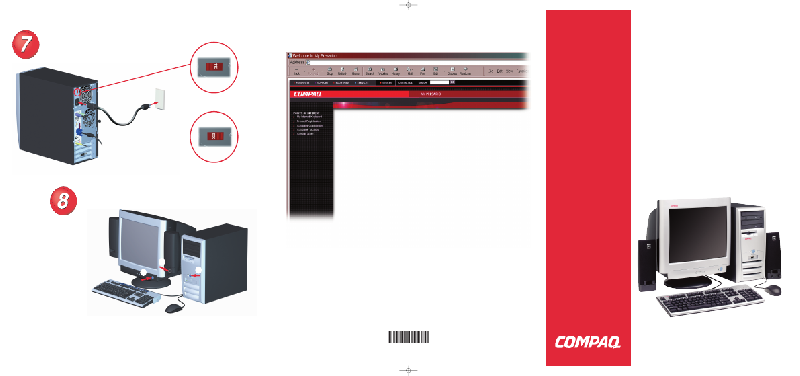 1
2
3
IMPORT AN T:
When the computer starts, the system
automatically converts the file system on your hard
drive.
The conversion may take several minutes.
Do not
stop the process.
When the conversion is completed the
computer will restart.
When prompted, begin your product registration
process. Online instructions will guide you through the
registration and preinstalled software setup process. The
setup time varies by computer configuration.
Power
and Voltage
or
NOTE:
Your model may not include a voltage
selection switch. If a switch is available,
the
voltage is factory set to the correct rating.
If in doubt, contact your local power utility.
The rating label on the device shows which FCC class (A or B) the equipment falls into. Class B devices have an FCC logo or FCC I
D on the label. Class A
devices do not have an FCC ID or logo on the label. Once the class of the device is determined,
refer to the corresponding statement. For complete
details, read the
Safety and Regulatory Information
guide contained on the

Documentation Library

CD.
©2002 Compaq Information Technologies Group,L.P. COMPAQ.Compaq, the Compaq logo and Presario are trademarks of Compaq Information
Technologies Group, L.P. in
the United States and other countries. All other product names mentioned herein may be trademarks of their respective companies. Nothing herein should be construed
as constituting an additional warranty.
First Edition March 2002.
274892-001
compaq.com/athome
>
Accessories -

add performance and personalization to your new Presario
computer with Compaq quality tested and certified options like printers,
personal audio players,
gaming products and more! Go to
compaq.com/athome/accessories
(for US only).
>
Help and support -

whether you are a novice or technical expect, knowledge,
information and assistance are available when and where you need it. For the
quickest and accurate solutions go to
compaq.com/consumersupport
>
Let us hear from you -

participate in product discussions, review commonly
asked questions and answers or post new questions to a community of users.
compaq.com/communities
>
Compaq

Documentation Library

CD -

learn more about your computer from the
information contained on your documentation CD,
such as identifying
components,
installing upgrades, connecting to the Internet,
troubleshooting
tips,
and setting up a safe and comfortable environment
.
Compaq features
http://compaq.com/athome
Presario 6000 Series
Quick Setup
274892-001_6000QSU.qxd 2/12/02 7:12 PM Page 1