HP Mini 210-1010 User Manual
Download Operation & user's manual of HP 1010nr - Mini - Atom 1.6 GHz Laptop for Free or View it Online on All-Guides.com. This version of HP 1010nr - Mini - Atom 1.6 GHz Manual compatible with such list of devices, as: 1010nr - Mini - Atom 1.6 GHz, Mini 210-1000 - PC, Mini 210-1010, Mini 210-1030, Mini 210-1100 - PC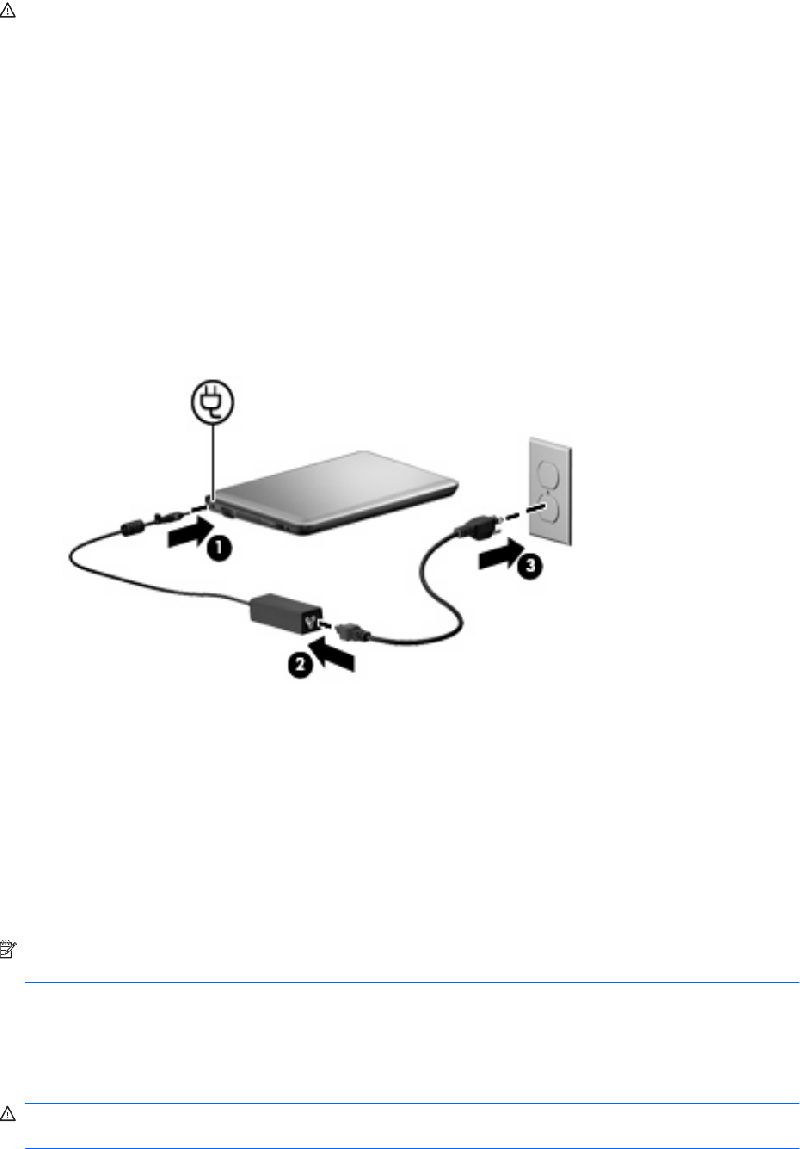 Connecting the AC adapter
WARNING!
To reduce the risk of electric shock or damage to the equipment:
Plug the power cord into an AC outlet that is easily accessible at all times.
Disconnect power from the computer by unplugging
the power cord from the AC outlet (not by
unplugging the power cord from the computer).
If provided with a 3-pin attachment plug on the pow
er cord, plug the cord into a grounded (earthed) 3-
pin outlet. Do not disable the power cord grounding
pin, for example, by attaching a 2-pin adapter. The
grounding pin is an important safety feature.
To connect the computer to extern
al AC power, follow these steps:
1.
Plug the AC adapter into the power connector

(1)

on the computer.
2.
Plug the power cord into the AC adapter (2)

.
3.
Plug the other end of the power cord into an AC outlet (3)

.
Using battery power
When a charged battery is in the computer and the computer is not plugged into external power, the
computer runs on battery power. When the computer
is plugged into external AC power, the computer
runs on AC power.
If the computer contains a charged battery and is
running on external AC power supplied through the
AC adapter, the computer switch
es to battery power if the AC

adapter is disconnected from the
computer.
NOTE:
The display brightness is decreased to save battery life when you disconnect AC power. To
increase brightness, use the
f3

action key or reconnect the AC adapter.
You can keep a battery in the computer or in st
orage, depending on how you

work. Keeping the battery
in the computer whenever the computer is plugged into AC power charges the battery and also protects
your work in case of a power outage. However, a
battery in the computer slowly discharges when the
computer is off and unplugged from external power.
WARNING!
To reduce potential safety issues, use only

the battery provided with the computer, a
replacement battery provided by HP, or
a compatible battery purchased from HP.
16
Chapter 3 Power management