HP Mini 210-1010 User Manual
Download Operation & user's manual of HP 1010nr - Mini - Atom 1.6 GHz Laptop for Free or View it Online on All-Guides.com. This version of HP 1010nr - Mini - Atom 1.6 GHz Manual compatible with such list of devices, as: Mini 210-1000 - PC, Mini 210-1010, Mini 210-1030, Mini 210-1099, Mini 210-1100 - PC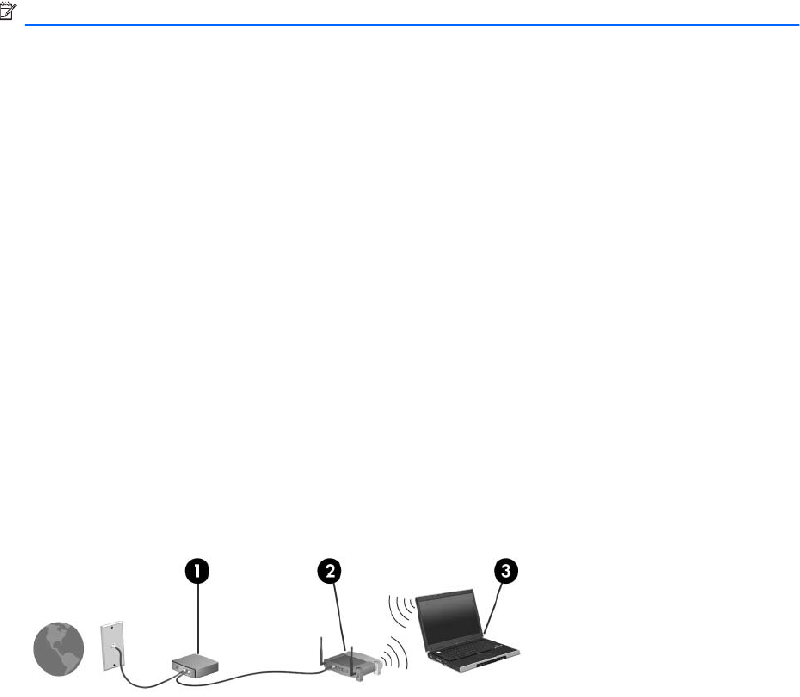 NOTE:
The terms

wireless router

and

wireless access point

are often used interchangeably.
●
A large-scale WLAN, such as a corporate or pu
blic WLAN, typically uses wireless access points
that can accommodate a large number of devices and accessories and can separate critical
network functions.
●
A home or small office WLAN typically uses a wi
reless router, which allows

several wireless and
wired devices to share an Internet
connection, a printer, and files

without requiring additional pieces
of hardware or software.
To use the WLAN device in your computer, you must
connect to a WLAN infrastructure (provided through
a service provider or a pu
blic or corporate network).
Setting up a WLAN
To set up a WLAN and connect to the Internet, you need the following equipment:
●
A broadband modem (either DSL or cable)
(1)
and high-speed Internet service purchased from an
Internet service provider (ISP)
●
A wireless router (purchased separately)
(2)
●
Computer equipped with a wireless device
(3)
The illustration below shows an exam
ple of a wireless network installation that

is connected to the
Internet.
As your network grows, additional wireless and wired devices can be connected to the network to access
the Internet.
For help in setting up your WLAN, refer to the inform
ation provided by your ro

uter manufacturer or your
ISP.
Protecting your WLAN
It is essential to understand that because the WL
AN standard was designed with only limited security
capabilities—basically to
foil casual eavesdropping rather than more powerf

ul forms of attack—WLANs
are vulnerable to well-known and well-documented security weaknesses.
WLANs in public areas, or "hotspots," like coffee shops and airports may not provide any security. New
technologies are being developed by wireless manufacturers and hotspot service providers that make
the public environment more secure and anonymous. If you are concerned about the security of your
computer in a hotspot, limit your network activities to noncritical e-mail and basic Internet surfing.
When you set up a WLAN or access an existing WLAN, always enable security features to protect your
network from unauthorized access. The common secu
rity levels are Wi-Fi Protected Access (WPA)-
Personal and Wired Equivalent Privacy (WEP). Be
cause wireless radio signals travel outside the
network, other WLAN devices can pick up unprotected signals and either connect to your network