Panasonic Toughbook CF-31ATA112M Reference Manual
Download Reference manual of Panasonic Toughbook CF-31ATA112M Laptop for Free or View it Online on All-Guides.com. This version of Panasonic Toughbook CF-31ATA112M Manual compatible with such list of devices, as: Toughbook CF-31ATA721M, Toughbook CF-31ATA731M, Toughbook CF-31ATABA1M, Toughbook CF-31BTJ812M, Toughbook CF-31ETAAZ1M
Brand: Panasonic
Category: Laptop
Type: Reference manual
Model: Panasonic Toughbook CF-31ATA112M , Panasonic Toughbook CF-31ATA301M , Panasonic Toughbook CF-31ATA711M , Panasonic Toughbook CF-31ATA721M , Panasonic Toughbook CF-31ATA722M , Panasonic Toughbook CF-31ATA731M , Panasonic Toughbook CF-31ATA741M , Panasonic Toughbook CF-31ATA742M , Panasonic Toughbook CF-31ATAAA1M , Panasonic Toughbook CF-31ATABA1M , Panasonic Toughbook CF-31ATABX1M , Panasonic Toughbook CF-31ATACX1M , Panasonic Toughbook CF-31ATAEA1M , Panasonic Toughbook CF-31ATAEX1M , Panasonic Toughbook CF-31ATAFA1M , Panasonic Toughbook CF-31ATAFX1M , Panasonic Toughbook CF-31ATAJX1M , Panasonic Toughbook CF-31ATAJX2M , Panasonic Toughbook CF-31ATCAX1M , Panasonic Toughbook CF-31ATDAX1M , Panasonic Toughbook CF-31ATJ7S2M , Panasonic Toughbook CF-31ATN7D1M , Panasonic Toughbook CF-31ATN7D2M , Panasonic Toughbook CF-31ATN7G1M , Panasonic Toughbook CF-31ATN7L1M , Panasonic Toughbook CF-31ATN7L2M , Panasonic Toughbook CF-31ATNAA1M , Panasonic Toughbook CF-31ATNJX1M , Panasonic Toughbook CF-31ATQAX1M , Panasonic Toughbook CF-31ATXAA1M , Panasonic Toughbook CF-31ATXAA2M , Panasonic Toughbook CF-31ATXAX1M , Panasonic Toughbook CF-31AW4BX1M , Panasonic Toughbook CF-31AW4BX2M , Panasonic Toughbook CF-31AWAAA1M , Panasonic Toughbook CF-31AWAAX1M , Panasonic Toughbook CF-31AWABX1M , Panasonic Toughbook CF-31AWAEX1M , Panasonic Toughbook CF-31AWBBX2M , Panasonic Toughbook CF-31AWJ7R1M , Panasonic Toughbook CF-31AWJ7R2M , Panasonic Toughbook CF-31AWNAA1M , Panasonic Toughbook CF-31AWNAX1M , Panasonic Toughbook CF-31AWNBX1M , Panasonic Toughbook CF-31AWNCX1M , Panasonic Toughbook CF-31AWNEX1M , Panasonic Toughbook CF-31AXAEX1M , Panasonic Toughbook CF-31BA2771M , Panasonic Toughbook CF-31BA9842M , Panasonic Toughbook CF-31BAA962M , Panasonic Toughbook CF-31BAAAZ1M , Panasonic Toughbook CF-31BAABZ1M , Panasonic Toughbook CF-31BAE822M , Panasonic Toughbook CF-31BT2AZ1M , Panasonic Toughbook CF-31BT2BZ1M , Panasonic Toughbook CF-31BTA7A1M , Panasonic Toughbook CF-31BTAAZ1M , Panasonic Toughbook CF-31BTABZ1M , Panasonic Toughbook CF-31BTJ812M , Panasonic Toughbook CF-31BTN7A1M , Panasonic Toughbook CF-31BTN8B2M , Panasonic Toughbook CF-31BTT8Q2M , Panasonic Toughbook CF-31BTT8S2M , Panasonic Toughbook CF-31BTT922M , Panasonic Toughbook CF-31BWA962M , Panasonic Toughbook CF-31BWAAZ1M , Panasonic Toughbook CF-31BWAAZ2M , Panasonic Toughbook CF-31BWABZ1M , Panasonic Toughbook CF-31BWABZ2M , Panasonic Toughbook CF-31BWACZ1M , Panasonic Toughbook CF-31BWACZ2M , Panasonic Toughbook CF-31BWBBZ2M , Panasonic Toughbook CF-31BWJ812M , Panasonic Toughbook CF-31EAAEZ1M , Panasonic Toughbook CF-31ET27H1M , Panasonic Toughbook CF-31ET27H2M , Panasonic Toughbook CF-31ET2AZ1M , Panasonic Toughbook CF-31ET2AZ2M , Panasonic Toughbook CF-31ETA7H1M , Panasonic Toughbook CF-31ETAAZ1M , Panasonic Toughbook CF-31ETAJZ1M , Panasonic Toughbook CF-31ETAJZ2M , Panasonic Toughbook CF-31FTAAX1M , Panasonic Toughbook CF-31FTABX1M , Panasonic Toughbook CF-31FWJ201M , Panasonic Toughbook CF-31FWJ202M , Panasonic Toughbook CF-31GA1701M , Panasonic Toughbook CF-31GA2AA1M , Panasonic Toughbook CF-31GA2AX1M , Panasonic Toughbook CF-31GA2BX1M , Panasonic Toughbook CF-31GA2CA1M , Panasonic Toughbook CF-31GA2EA1M , Panasonic Toughbook CF-31GC2AA1M , Panasonic Toughbook CF-31GF2AX1M , Panasonic Toughbook CF-31GF2AX2M , Panasonic Toughbook CF-31GG2EA1M , Panasonic Toughbook CF-31GG2EX1M , Panasonic Toughbook CF-31GG2FA1M , Panasonic Toughbook CF-31GQ2AA1M , Panasonic Toughbook CF-31GQ2AX1M , Panasonic Toughbook CF-31GQ2CA1M , Panasonic Toughbook CF-31GR1EA1M , Panasonic Toughbook CF-31GS2EX1M , Panasonic Toughbook CF-31GT2AA1M , Panasonic Toughbook CF-31GT2AA2M , Panasonic Toughbook CF-31GT2BX1M , Panasonic Toughbook CF-31GT2EX1M , Panasonic Toughbook CF-31GT2EX2M , Panasonic Toughbook CF-31GW2AX1M , Panasonic Toughbook CF-31JEODDSS , Panasonic Toughbook CF-31THB01 , Panasonic Toughbook CF-31THB02 , Panasonic Toughbook CF-31TSB02 , Panasonic Toughbook CF-31TSB03 , Panasonic Toughbook CF-31TSB04 , Panasonic Toughbook CF-31TSSB01 , Panasonic Toughbook CF-31YCZC02
Pages: 126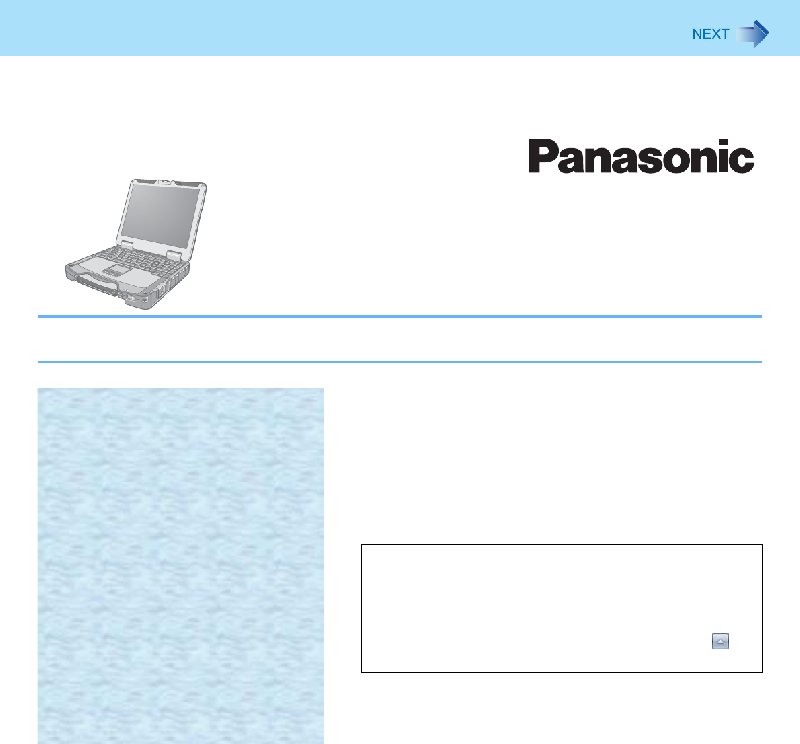 1
Reference Manual
Personal Computer
We recommend that this Reference Manual be printed.
Descriptions
•
For common procedures and screens for Windows 7 and
Windows XP, this Reference Manual uses the procedures
and screens of Windows 7.
•
Some menus may differ for Windows XP.
•
Windows XP does not require clicking operation to
of
the notification area.