JVC GR-SXM750 Instructions Manual
Download Instructions manual of JVC GR-SXM750 Camcorder for Free or View it Online on All-Guides.com.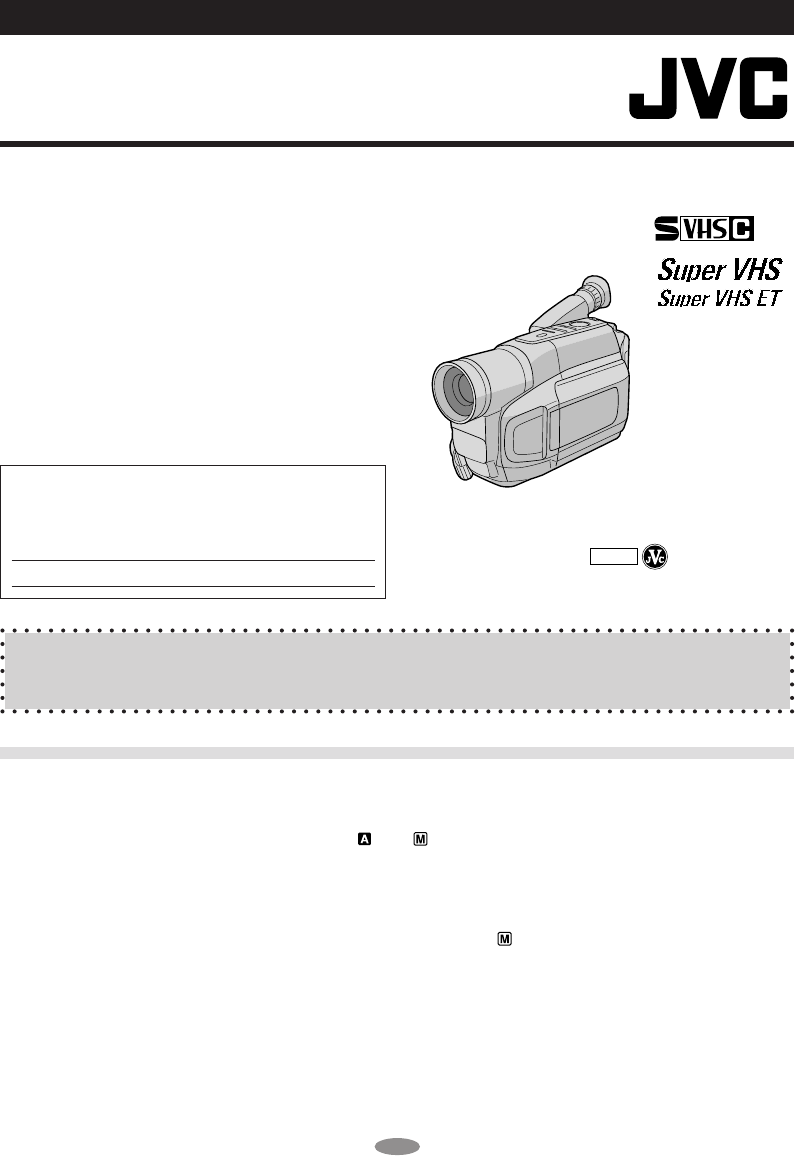 1
INSTRUCTIONS
AUTOMATIC DEMONSTRATION
Automatic Demonstration takes place when "DEMO MODE" is set to "ON"
(factory-preset).
•
Available when the Power Switch
@ is set to "

" or "

" while pressing down the Lock Button !
located on the switch.
•
Performing any operation during the demonstration stops the demonstration temporarily. If no operation
is performed for more than 1 minute after that, the demonstration will resume.
•
"DEMO MODE" remains "ON" even if the camcorder power is turned off.
•
To cancel Automatic Demonstration, set the Power Switch
@
to "

" and press the MENU Wheel
1
in
while the demo is in progress. This takes you directly to the demo mode's Setting Menu (so you will not
have to go through the main Menu Screen). Rotate the MENU Wheel
1
to select "OFF" and press it.
NOTES:
•
When a tape whose Erase Protection tab is in the position that allows recording is loaded in the
camcorder, demonstration is not available.
•
If you do not detach the Lens Cap, you cannot see the actual changes of the Automatic Demonstration
activated on the LCD monitor or viewfinder.
Dear Customer,
Thank you for purchasing the JVC Compact VHS camcorder. Before use, please read
"PRECAUTIONS" (

pg. 3, 4) to ensure safe use of this product.
COMPACT VHS CAMCORDER
GR-SXM750
COPYRIGHT©
2002 VICTOR COMPANY OF JAPAN, LTD
US/UC
Printed in Malaysia
1102-AS-NF-PJ
For Customer Use:
Enter below the Model No. and Serial No. which is
located on the bottom of the camcorder. Retain this
information for future reference.
Model No.
Serial No.
GR-SXM750_Cov_EN
11/8/02, 3:10 PM1